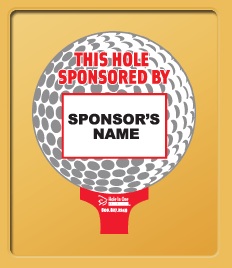 With the contest signage Hole In One International provides as part of your insurance package, all signage must be placed at its designated hole on the golf course where the advertised prize is being given away, otherwise, it can become a liability.
But, when it comes to sponsor signs (seen here on the left) where you place them, is up to you!
That being said, when putting up sponsor signs at a golf outing, you're obviously going to want to put them somewhere they will easily be seen. We've asked avid golfer and General Manager with Hole In One International, Carlos Concha, where the best spots to place sponsor signs would be for maximum visibility and sponsor recognition.
According to Concha, "For those who plan on placing a sponsor sign at each hole out on the golf course, you'll want to place them on the tee box – that way when the player approaches the tee from the cart, the sign is the first thing they'll see."
But we're only purchasing one or two sponsor signs! What then?
"In this case, you'd want to consider placing one —preferably a " Sponsored By" sign – out on the first hole. The registration table is another great location where people are bound to see the sign with your name and/or logo on it."
Have any other questions about sponsor signs or need more ideas on what you can do to make the most of them and your golf tournament? Feel free to send us an email or give us a call at 800-827-2249.
P.S. Selling sponsor signs is a great way to increase revenue at your tournament.