Manchester, Tenn. — Congratulations to Samuel Prater who recently won $10,000 in a hole in one contest sponsored by First Bank, and paid for by Hole In One International.
Damp weather didn't dampen the turn out or anyone's spirits during this year's Manchester Chamber Golf Classic where Samuel Prater won $10,000 after he aced the 165-yard, Hole 17 at the Willowbrook Course with a 9-iron.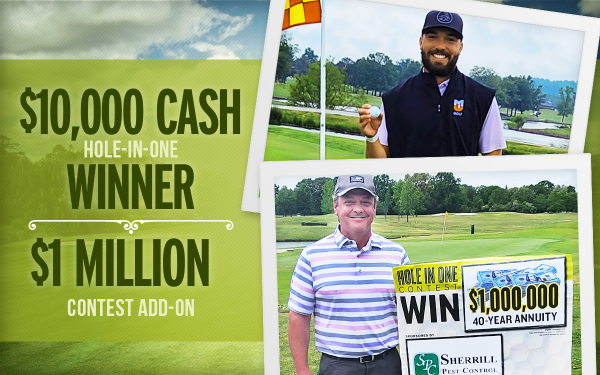 While Prater was surely delighted with his amazing hole in one prize – which he won despite the fact that it was raining – he was probably also wishing it had taken place on Hole 9… because that's the hole where Sherrill Pest Control was sponsoring a Million-Dollar Shootout.

Did you know for as little as $190, you can turn your current event into a million-dollar attention-grabber that will not only help you stand out on social media but will make those pre-tournament press releases pop!
Here's just a few ways you can incorporate a million-dollar shootout:
SELL RAFFLE TICKETS before and during your event and draw a lucky golfer's name for the chance to swing for a million.
RUN A CLOSEST TO THE PIN CONTEST and give the winner a chance to swing for a million on the 18th.

ANYTHING YOU CAN DREAM OF such as choosing a contestant from an elite sponsor or a putting contest. Then set up a 165+ yard teeing area and get ready for some serious excitement.
To learn more about incorporating a Million-Dollar Shootout into your event give us a call today at 800-827-2249.