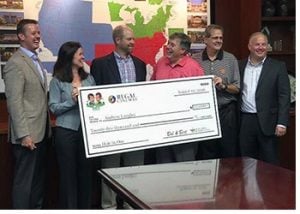 Hole In One Insurance Winner Scores $25K at Fundraiser
Hole In One International Writes Another Check
Knoxville, Tenn. – Congratulations to Andrew Langley, who recently won $25,000, courtesy of Regal Cinemas, and paid for by Hole In One International.
Langley won the money after he aced the 178-yard, hole 14 at the Holston Hills Country Club during the Bob Kelsing and Bert Bertlekamp Golf Tournament. It was Langley's first hole in one.
Vol announcer, Bob Kesling of the Vol Radio Network, and color analyst, Bert Bertelkamp, host the annual tournament, which benefits the Helen Ross McNabb Center, a non-profit organization offering mental health, substance abuse and social services.
Regal C.F.O. David Ownby, a McNabb Foundation board member, said, "Being involved in the community is very important to us at Regal. We've been a long-term partner of Helen Ross McNabb Center, and so funding this golf tournament was just part of our relationship with them."
Ready to raise more money, increase awareness, or make the most of your next sponsorship opportunity? Hole In One International is here to help! To get started, visit our website or give us a call today at 800-827-2249.