What Is Hole In One Insurance?
Hole in one insurance is a 100% insured contract that allows you to add excitement to a company, charity or golf course tournament by offering valuable, attention-getting hole in one prizes such as cars, vacations, or up to $1,000,000 cash without the risk of a payout.
Hole In One International has been the world's leading hole in one insurance provider for 30+ years!
How Hole In One Insurance Works:
You pay Hole In One International a nominal contract fee based upon:
– 1 –
The number of golfers playing in the event.
– 2 –
The dollar value of the hole in one prize you wish to offer.
– 3 –
The distance of the contest hole you select.
When someone gets a hole in one during your event, WE WILL PAY FOR THE PRIZE!
What's Included:
Contest Signs/Tee Markers

Example of Hole In One Insurance:
The XYZ Company wants to increase visibility of their sponsorship of a local charity golf tournament. They decide to offer the participants the chance to win a NEW CAR if they make a hole in one on the 150-yard 12th hole. Prior to the event, they contact Hole In One International and purchase a hole in one insurance contract for $385 which includes 100% insurance coverage (Everest National Insurance Company), contest signs for ALL par 3 holes with their name and logo on them, ancillary hole in one prizes for the non-target par 3 holes, and a FREE tee prize for every player in the event. When, on the day of the event, Gary Golfer makes a hole in one on the 12th hole, Hole In One International will pay for the car and the XYZ Company can relax and take the calls from the media!
---
WORLD'S MOST TRUSTED HOLE IN ONE INSURANCE PROVIDER
Hole In One International is a full-service promotions company and purchasing group operating pursuant to the Liability Risk Retention Act of 1986. We are owned, operated, and staffed by golf enthusiasts. The game has been an influential part of all of our lives. Our experience with golf runs the gamut from competing successfully at the amateur and professional levels to developing the nation's most successful golf tournament promotions company.
We've taken our extensive knowledge and affection for the game, combined it with business know-how and A+ Rated underwriting to offer the best hole-in-one insurance program in the business with service that's second to none.
As a founding shareholder, Kirk Triplett not only represents Hole In One International's prize insurance program on the Champions Tour, but in the board room as well.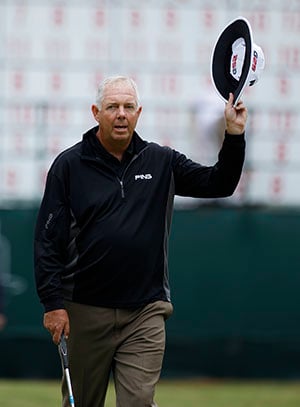 ---
Golf is a Game of Integrity
We guarantee your satisfaction. Out of respect for the game and our clients, we will cheerfully refund the entire amount of your hole in one insurance contract fee, prior to your event, if at any time we don't meet your expectations. We will also amend your hole-in-one coverage to an alternate date in the event of rain.
SERVING OUR DIVERSE CLIENTS FOR OVER 30 YEARS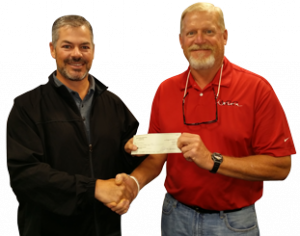 "Hole In One International is great to work with. I go online, get a quote, and in a few minutes everything is done. A few years ago we had a guy win a $500 Visa Card. Now we had this winner. Hole In One International is responsive to customers and offers very good value."
– Ricke Welden, AGC of Iowa

---
BIG WINNERS! AND PRIZES!
We have paid over $56 million in prizes to our hole in one insurance and putting contest winners.
---
NEED PRIZE IDEAS?