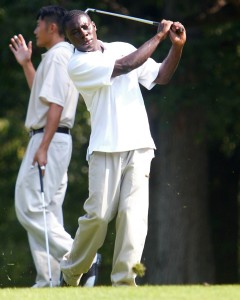 Want to give your tournament participants and volunteers a way to remember your golf outing for years to come? Then be sure to take as many photos and videos as possible before, during and even after your event! Just make sure they're quality photos/videos. Wondering how to ensure that they are? Hole In One International is here to explain how to make the most out of your visual memories and provide you with some great ideas!
Photos
Make sure you pay attention to what you're taking photos of! (This may seem elementary, but truth be told we see a lot of photos of scenery and beverage carts.) While these types of photos are okay to have, it's still important to focus on your main subject: your tournament participants! Be sure to gather some great action shots of your players, individual photos and team/foursome photos. Have your designated photographer (if applicable) drive around in a golf cart and take some unique photos. Also be sure to take photos of any contest winners you happen to have! If/when hole in one insurance is included in your outing, be sure to take a photo of any winners you have next to the prize they've won, if it happens to be out on the golf course; otherwise, have them stand by the appropriate signage on the hole that shows what they've won!
Videos
Be sure to take footage of your golfers throughout the duration of your outing. Put together a 'collage' of sorts to share at your awards ceremony and sell to participants (as well as to use to promote the next event). It will make for plenty of laughs – especially if you manage to catch some footage of any golf follies, such as a player being stuck in an inescapable sand trap or a player's ball landing straight into a water hazard. Depending on the amount/quality of video equipment available at your golf tournament, you can also station the video cameras on a specific hole on the course and video each golfer playing that particular hole. Or, if you have the time, you can even video each golfer's performance from start to finish and possibly sell a video of their performance to them. Looking to give your sponsor(s) additional exposure? Feel free to include any necessary commercials in the video as well.
Need more photo/video suggestions? Feel free to give Hole In One International a call at 800-827-2249… or email us, and we'll be sure to help you out and give you more pointers!