Indianapolis, Ind. – Congratulations to Brandon Lewis of Indianapolis who won $5,000 last Fall in a single putt putting contest insured by Hole In One International.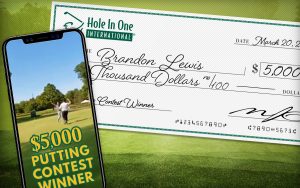 Lewis made the impressive 50-foot putt on the practice putting green at Broadmoor Country Club following Noble of Indiana's fundraising golf tournament. Lewis qualified to take the putt after a winning a pair of "closest to the hole" contests.

Check out Lewis' response when he realizes he nailed the big prize putt.​

A single putt putting contest is a fun and easy way to add excitement – and generate additional revenue – during any fundraising tournament. You can capture additional donations by giving players the option to participate in the putting contest, or you can use a putting contest to create an additional sponsorship opportunity for a local business. Even better, you can do both.
Interested in getting a complimentary quote on your event or learning more about Hole In One International's affordable single putt and three-putt combination putting contests? Email or give us a call today at 800-827-2249.