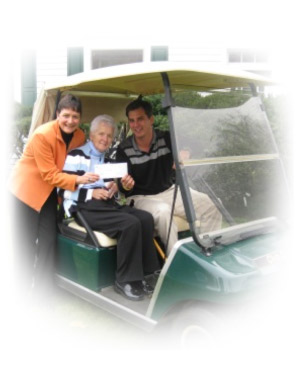 Wickatunk, N.J. – Congratulations to Shane Boyce of Freehold who recently won $10,000, courtesy of Collier Youth Services, and paid for by Hole In One International.
Boyce won the $10,000 prize during a combination putting contest, which took place on the Eagle Oaks Golf and Country Club practice green at the turn during the 18th annual Collier Golf Classic.
To participate, players donated $20 each, or paid $60 per foursome, receiving a sleeve of balls and a shot at the big bucks. All contestants then got the chance to make a 10-foot putt. If they holed the 10-footer, they were entered into a bonus prize drawing for a golf bag and moved on to make a 30-foot putt. If they successfully holed the 30-footer, they would advance to the 50-footer and a chance to win the giant prize.
While two players qualified for the giant-prize 50-foot putt, it was Boyce who aced the uphill shot, scoring the $10,000 cash prize!
The golf outing raised over $61,000 to support at-risk youth involved in the programs at Collier Youth Services, a social service agency whose mission is to provide at-risk youth a chance to grow toward their potential in an environment that promotes belonging, dignity and hope. This was the 28-year-old Boyce's first putting contest win.
Are you ready to raise more money with a putting contest while giving your tournament participants the chance to score amazing prizes? Email, visit our website, or give us a call today at 800-827-2249.