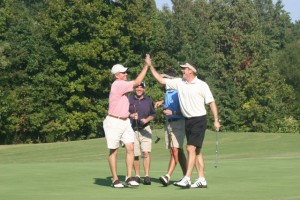 Having trouble deciding whether you should hold your insured putting contest or million-dollar shootout contest before or after your golf tournament? Don't feel that you have the time for any golf contests before or after the golf outing? If the answer is 'yes' to either of those questions, then you'll definitely want to consider having your players qualify, or even participate, in your golf contests "between" the 9s.
After players finish playing the 9th hole on the golf course, have them gather 'round for a chance to sink a 50-foot or longer putt or score a hole in one with one of our various golf contests! It's the perfect opportunity to qualify your contestants during this time; otherwise, have them pre-qualify prior to the golf tournament and hold the actual golf contests during that time. The choice is strictly up to you!
"The great part about the insured golf contests we have to offer is the fact that we're able to offer flexibility as far as when you're able to hold them", notes Kristen Hansen, Marketing Assistant with Hole In One International. "We realize that each golf tournament will have varying time restraints and we do our best to accommodate each committee's needs the best we can. Having the ability to conduct your golf contests between the 9s is a great example of this."
"A common misconception is the fact that we're unable to insure a putting contest or million-dollar shootout unless an actual golf tournament is taking place", Hansen adds. "This is not at all the case, as putting contests and million-dollar shootouts can most definitely be insured as stand-alone events. No tournament? No problem!"
If you have any other questions about holding golf contests "between the 9s", don't hesitate to give Hole In One International a call at 800-827-2249. You can also email us with any questions!