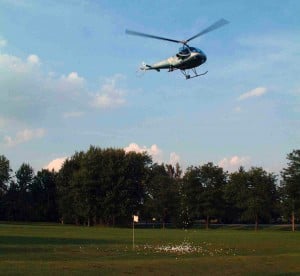 Calling all non-profit organizations: raise more dough this season with a helicopter golf ball drop!
Looking to add a little something extra to your annual golf tournament this year? How about a helicopter golf ball drop? That's right — thanks to Hole In One International's sister company, Odds On Promotions, this promotion can be insured at your next golf tournament… and for a nominal fee! Plus, a helicopter golf ball drop can help you maximize those fundraising dollars!
The way it works is simple: sell as many sponsorships as possible by having individuals purchase numbered golf balls for a fee — how much you choose to charge them per ball, or per bundle of golf balls, is strictly up to you! Contestants can either make their purchase at a specified location or better yet, online via your organization's website! Want to reward those who register and pay for their golf balls in advance? Feel free to cut them a deal and discount the price of their golf ball(s) if they make their purchases x days prior to the registration deadline!
Come the day of the event, the helicopter will lift into the air and drop all of the golf balls onto a target area. If the numbers on the balls which come closest to the target match Odds On's preselected list of numbers, then they'll be a grand prize winner… of any insured prize amount you choose, up to $1,000,000! Wondering where in the world you're going to manage to obtain a helicopter from? We encourage you to team up with one of your local radio or TV stations. You'll get them publicity, and in return, you'll gain use of their traffic helicopter!
A helicopter golf ball drop is an attention-grabbing promotion which can be held before or after your golf tournament. In fact, it can even be insured as a stand-alone event, if you so choose! Pick up the phone and give Odds On a call today at 888-827-2249 for a free, no-obligation quote on a helicopter golf ball drop promotion. You can also email them with any questions.
Wondering what a helicopter golf ball drop looks like in action? Wonder no more: just check out the video below!
httpv://www.youtube.com/watch?v=kOSo9pj8xMQ