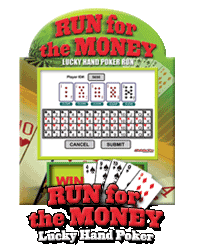 Increasing your fundraising dollars can be a tough task!  Which is why we want to share with you how insuring a poker run promotion through our sister company, Odds On Promotions, can help you achieve better results.
A poker run promotion can be held either during your golf tournament, or  as a stand-alone event! Here's how it works: First, pre-register your contestants and select five various sponsor locations to visit.  Contestants will then draw a playing card at random when they come across each of their five stops.  After having visited all of the designated locations, they'll arrive at the final stop and enter the five cards they've collected into Odds On's Lucky Hand Poker Machine.
If a contestant's hand matches the preselected winning hand, Odds On will pay for the prize!  And that's not all — Odds On's Lucky Hand Poker Machine also has the capability of ranking all the hands – highest to lowest, enabling you to hand out self-sponsored prizes.
Odds On Promotions helps make insuring a poker run promotion a piece of cake!  All you'll need to do is determine how much you'd like your insured grand prize to be valued at (poker runs can be insured up to $50,000!) and how many hands you expect to sell.  You'll also want to determine what self-sponsored prizes you'll want to be giving away as auxiliary prizes, which isn't mandatory, but strongly encouraged.  No one likes to leave empty-handed, after all!
Once you have a plan in place, give Odds On Promotions a call today at 888-827-2249 or email them for a quote!  Also be sure to watch the video below.  Odds On can help you make the most out of your poker run promotion, as well as ensure that your organization manages to raise the funds it deserves!  Don't hesitate – contact Odds On today!  All quotes are free and of no obligation to you!