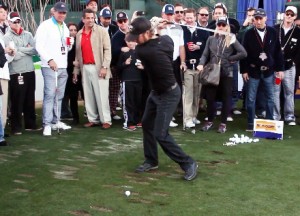 Now here's some exciting news: For the 5th year in a row, Hole In One International had the honor of insuring a Million Dollar Shootout during the 2013 Phoenix Suns Charities Shot at Glory event which occurred during the Phoenix Waste Management Open on January 30, 2013!
On the infamous 16th hole at TPC Scottsdale, 30 amateur players had a chance to make a million-dollar golf shot from 160 yards… for a chance to win $1,000,000, paid for by Hole In One International! Dierks Bentley of country music fame ended up landing his shot 19 feet from the cup. While no one aced the Million Dollar Shootout, there were still some big victories that day — one of which consisted of giving Bentley's designated charity — the Jordan Sterling Foundation– $35,000. Runner-up Jim Pitman of the Phoenix Suns raised $25,000 for Phoenix Suns Charities and Dave Steiner of Waste Management raised $15,000 for his selected charity.
Run Your Own Million Dollar Shootout…
Interested in insuring a Million Dollar Shootout of your own to help fundraise for your cause? Hole In One International can help! Give us a call at 800-827-2249 or email us today for a free, no-obligation quote and more information. All Million Dollar Shootout policies come with a free sign which announces the sponsor's name and prize description. Want to include a logo? No problem! Hole In One International can do it all for you.
* To expedite the process of obtaining your quote, be sure to tell your contest consultant the yardage of the hole you'll be using (135-yard minimum), the number of contestants playing, as well as their golfer status (amateur, club pro, or tour pro).