Lima, Ohio – This May, Thomas Smith of Tomball, Texas won a unique prize… a $100,000 hearse, courtesy of S&S Superior Coach Company, and paid for by a hole in one insurance policy from Hole In One International.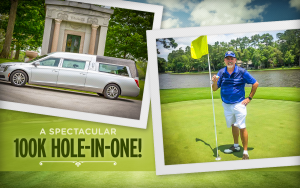 Smith won the Cadillac XTS Masterpiece hearse during the National Museum of Funeral History's 25th Annual Charity Golf Tournament after he aced the 205-yard 4th hole on the Lake Course at the Kingwood Country Club using a driver.

Created to support the museum and its mission, educating visitors about one of man's oldest cultural rituals and celebrating the rich history of funeral service, this fundraising golf tournament brings together business executives and funeral industry professionals from across the country who take to the greens to ensure the growth and preservation of the museum and its programs.

Been asked to sponsor a golf event in your community? Interested in hole in one insurance, or learning more about how you can use prize insurance to showcase your organization at a sporting event this Fall? Looking for creative ways to drive traffic and sales for your business? Email or give us a call today at 800-827-2249 to learn more.