Fairbanks, Alaska – Congratulations to golf contest winner Stewart Thompson of Fairbanks who recently won $5,000 courtesy of Explore Fairbanks and MAC Federal Credit Union and paid for by Hole In One International's sister company, Odds On Promotions.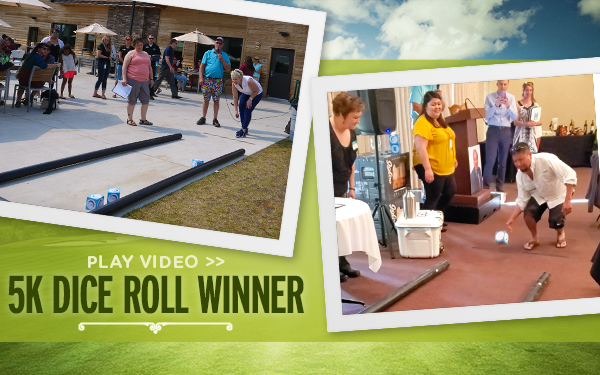 Thompson won the cash prize after he rolled a set of 4″ dice and got three "MAC Federal Credit Union" logos during a pre-tournament reception at the Wedgewood Resort in Fairbanks.

The dice roll, which was a new addition to the 19th Annual Morris Thompson Memorial Golf Classic, gave six randomly selected golfers (two on Saturday at the reception, and four on Sunday at the golf course) the chance to roll the dice and win prizes. Had Thompson, or any of the other five contestants rolled three "Explore Fairbanks" logos they would have won $20,000, also to be paid by Odds On.

The tournament was established by the Doyon Foundation and takes place annually at the Chena Bend Golf Course in Fairbanks. It is a fundraiser for the Foundation's Morris Thompson Scholarship Fund, an endowed fund benefiting Alaska Native higher education students. This year's event raised over $119,000. Since inception of the event, the Foundation has awarded 202 Morris Thompson Memorial competitive scholarships totaling $479,180.

Interested in running a dice roll at your next special event or as part of your upcoming golf tournament? Want to have a golf contest winner of your own? Email or give us a call today at 800-827-2249.