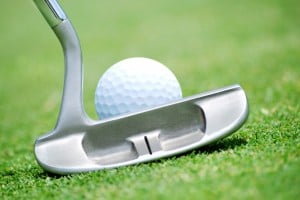 Looking for a golf contest that will give your clients and customers something to talk about? Then you'll love this putting contest story, which comes to us from a golf academy in the West, who teamed up with a local sports bar in order to achieve a few key sales and marketing objectives for both companies. The golf promotion itself was insured by Hole In One International's sister company, Odds On Promotions!
Prior to the promotional date, individuals who visited a local sports bar during Monday Night Football games received a raffle ticket. At the end of the promotional period, 16 individuals were chosen via raffle to participate in the insured golf contest held at the golf academy: a 3-putt-combination putting contest, insured by Odds On.
Each finalist had the opportunity to make a 10, 30 and 43-foot putt; however, it was a process of elimination. Those who made the 10-foot putt proceeded to the 30-foot putt. Those who holed the 30-foot putt proceed on to the final 43-foot putt. All 3 putts had to be successfully completed in order for a finalist to win the insured prize — $25,000, paid for by Odds On Promotions.
While unfortunately, no one was able to hole all 3 putts, there were some close calls and both companies — the golf academy and the sports bar — were able to better advertise their businesses.
Looking for a golf contest of your own? Good news: you don't have to be a golf course in order to insure one! Whether it's at your retail location, a sports game or otherwise, we can insure it! For putting contests, be sure to inquire about our putting ramps! Give Odds On Promotions a call today at 888-827-2249 or email them for a free, no-obligation quote!