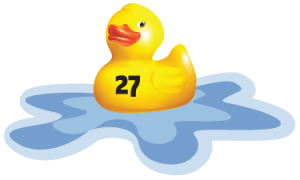 Ready to have a quackin' good time at your next golf tournament and/or golf event? Are you a non-profit organization looking to increase fundraising monies to help support your cause? If the answer is 'yes' to either one of those questions, then you'll definitely want to consider insuring a duck race fundraising promotion… insured by Hole In One International's sister company, Odds On Promotions! Allow us to explain how the duck race contest works…
First, you'll sell as many numbered rubber ducks to your contestants as possible — for a fee, of course! How much you choose to charge each individual for a duck and/or the allotted number of ducks is strictly up to you. Participants can either purchase their ducks in person at a designated location or, if your company/organization has a website, you can even sell them online! Feel free to cut participants an "early bird" deal, where if they purchase before a predetermined registration deadline, they can receive their duck(s) for a cheaper price!
On the day of the duck race, all of the numbered ducks will be dropped into a river and race downstream. If one of the ducks reaches the finish line first and the number of the contestant's winning duck happens to match Odds On Promotions' preselected number, then that contestant will be a grand prize winner… of any prize value up to $1,000,000 (you make the call as to how much you want to insure the duck race for)!
Want those fundraising dollars to be increased even more? Feel free to split the value of the insured prize 50/50 between the contestant and your non-profit/charitable organization! And don't forget to award your first, second and third place winners with smaller, self-insured auxiliary prizes, regardless of whether or not they end up being an insured grand prize winner. Don't let them leave your event empty-handed!
As you can see, a duck race fundraiser is perfect to hold and insure before or after your golf tournament… or even as a stand-alone event! Feel free to give Odds On Promotions a call at 888-827-2249 for a free, no-obligation quote. You can also email them with any questions. Before you do, though… be sure to check out the great duck race fundraiser video below to get an idea as to how the promotion works.
httpv://www.youtube.com/watch?v=908gBkRdl9g