Oswego, N.Y. – Talk about a winning combination … Howard "Howie" Page won $5,000 this September courtesy of Premier Living Suites (PSL), and paid for by Hole In One International.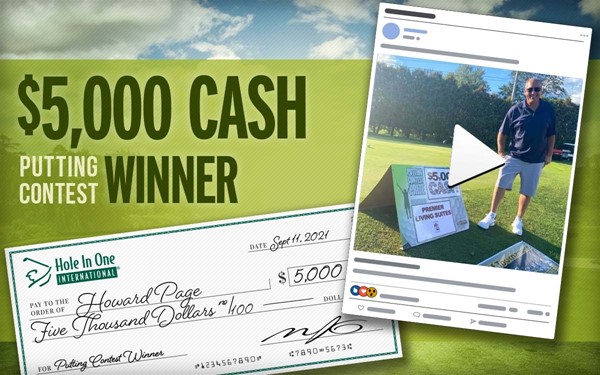 Page won the cash prize after he sank a 10′, a 30′ and an impressive 50-foot putt on the practice putting green at the Stone Creek Golf Course during the State University of New York-Oswego's (SUNY) Herb Hammond Golf Tournament.
The tournament was established over 30 years ago by Dick Johnson, one of the "founding forefathers" of the Blueline Club. According to SUNY-Oswego, the tournament, which is now named after a former Lakers Hockey coach is one of the university's largest community and alumni events, hosting between 125 to 175 people annually.
"We are very fortunate to have had PSL sponsor the putting contest. It was absolutely amazing to see Howard win, and a great way to cap off the day," explained men's hockey assistant coach Jon Whitelaw.
Along with the $5,000 putting contest, the tournament also featured a $10,000 hole in one contest, sponsored by GS Steamers as well as a "beat the pro" and chipping contest.
Want to learn more about adding a giant-prize putting contest to your event? Call today or click for an instant free quote.