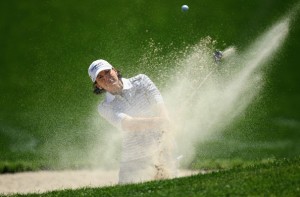 Insuring a hole-in-one, million-dollar shootout or putting contest at your golf tournament this season? Have touring professionals in your event? Make sure not to exclude them from all the fun — Hole In One International will still allow you to insure them!
The price of one touring professional is approximately 5x the price of one amateur. When we take a look at the three hole in ones that were made during the 2012 Masters Par 3 Tournament a few months back, it only makes sense that they'd cost a bit more to insure, given their skill level. Touring professionals are a much higher liability in comparison to an amateur player. Did you know that the odds of a hole in one for amateurs are 13,000 to 1 while for professionals, it's only 2,500 to 1? How's that for putting things into perspective?
Hole In One International also allows club professionals to participate in any of our insured contests as well. While not as expensive as a touring professional, they're still pricier than an amateur — 3x the price, to be exact. But again, just because they're in your golf outing doesn't mean you have to have them sit out while everyone else gets to take a swing (or putt) for some major dough. Nobody likes being left out … especially when it comes to being able to score a big prize!
Have any other questions about including amateurs, club professionals and/or touring professionals at your golf tournament? Feel free to give us a call at 800-827-2249 or email us!