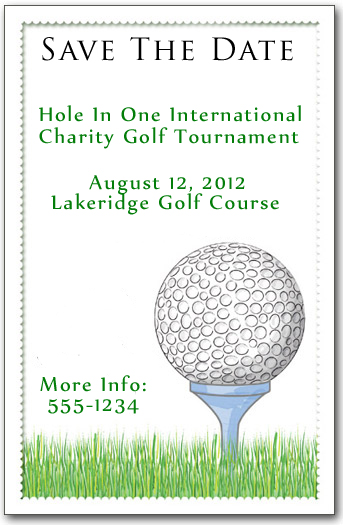 Hole In One International has something for you to consider after this year's golf tournament is a wrap: begin creating "Save the Date" cards for all of the players who participated in your golf outing!
As you likely already know, it's never too early to begin planning ahead. As soon as you have a date set for your next golf tournament, begin creating and sending out your Save the Date cards so players can RSVP for next year's event in an ample amount of time.
As a bonus, be sure to include deals & discounts such as "Early Bird Specials" for foursomes who pay for next year's event before a specified cut-off date!
Save the Date cards can easily be handmade; however, if it's within your budget, they can also be purchased online as well to minimize time and effort. You'll be surprised to find just how many customizable golf-themed Save the Date cards are out there when you search for them online!
Be sure to give Hole In One International a call at 800-827-2249 if you have any questions… and feel free to share your own "Save the Date" creations with us socially via Facebook, Twitter and/or Google+!