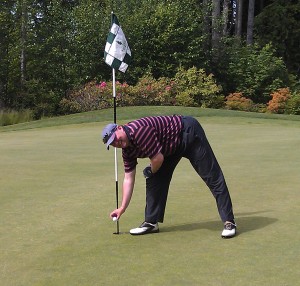 Hole In One International is happy to announce yet another hole in one insurance winner: Mark Simmons! Simmons, who played in the 26th Annual O'Dea Golf Tournament on June 15th at The Golf Club at Redmond Ridge in Redmond, WA, aced the 12th hole with his 6 iron, which measured approximately 144 yards.
While Simmons did not manage to ace hole #2 that day, which would have meant an instant $10,000, not all was lost: Simmons still scored a brand new BOSE Wave Radio for his feat — that's because Hole In One International doesn't want any of your tournament participants to go empty-handed. We'll place auxiliary prizes on up to 4 non-target par 3 holes on the golf course… so long as the hole measures at least 135 yards in length!https://www.holeinoneinternational.com/hole-in-one-insurance/free-signs-and-auxiliary-prizes
Ready to make one of your players a winner this golf season with a hole in one insurance policy of your own? Give Hole In One International a call today at 800-827-2249… or email us for a free, no-obligation quote!