Louisville, Ky. – Congratulations to Sheldon Hoagland who recently won $50,000, courtesy of Holy Family Church and paid for by Hole In One International, during the Holy Family Church Picnic Putting Contest at Cherokee Golf Course.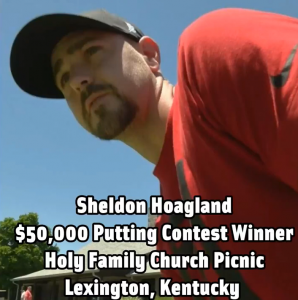 Hoagland qualified for the big-prize putting contest during the Holy Family Church Picnic, where contestants purchased a chance to make two putts in order to be one of 15 lucky contestants who would participate in the final $50,000 combination putting contest. Hoagland successfully sank a 10-foot, 30-foot and 50-foot putt winning the big bucks.
Watch his amazing shot and the news coverage the contest received.
Want to give your tournament participants a reason to celebrate? Looking for other creative ways to engage your donors? To learn more about adding a big prize putting contest to your event, give us a call today at 800-827-2249 or swing by our website and get a complimentary, instant quote. P.S. Want to see more great shots and tournament planning tips? Be sure to follow us on your preferred social media platform by visiting the links below.