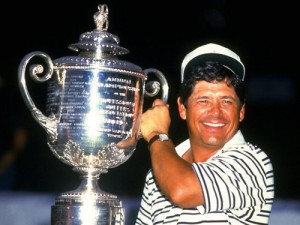 "When it comes to the game of life, I figure I've played the whole course." — Lee Trevino
There's no doubt about it… there are quite a few pro golfers out there who have "deserved" to win The Masters over the years, but for one reason or another, haven't quite met the mark.
One of the professional golfers who first comes to our minds here at Hole In One International is Lee 'Buck' Trevino.
Trevino, the self-taught Mexican-American golf icon, made quite a name for himself during his career. With his Vardon Trophy win, 2 PGAs; 29 PGA Tour wins, 2 Open Championships and 2 US Opens (just to name a few of his major accomplishments), his skill — while unique and not quite 'par for the course' — goes unquestioned.
Having had the chance to play at Augusta National, it's a wonder why he never won The Masters since the beginning of his professional career in 1967. Not even being struck by lightning at the 1975 Western Open and having a major spinal disk surgery stopped this man from going on to achieve many more victories during his professional career.
It's because of these reasons (and many more) that we here at Hole In One International feel that Trevino is one of the greatest golfers never to win The Masters.
And chances are that we're not alone in feeling that way. What do you think?
Who, in your opinion, should have won a past Masters — or still has a chance at winning one — yet hasn't?
Share your thoughts with us on Google Plus, Facebook and Twitter!