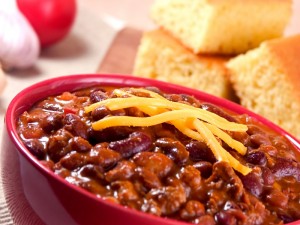 "Chili?", you're asking. That's right — chili. On April 14, Gahanna, Ohio area golfers will gather at Gahanna Municipal Golf Course for their annual "Chili Bowl", which will feature family games, activities, raffles and prizes for all attendees. According to this article, golfers of all ages and skill levels will be invited for a round of golf and to taste a "hole" lot of chili.
That's because local area restaurants and business sponsors will all be bringing their own chili to the event, which each and every attendee will be able to sample (rain or shine) … all for a nominal fee of $5/person!
According to Greg Ledbetter, recreation coordinator for the golf course, "Our goal is to let people see the fine golf course we have in our community. We would like to increase membership and the number of people we have coming out to play."
Here at Hole In One International, we just think it's a darn clever way to kick off the season!
Steal this idea and hold your own variation of Gahanna's "Chili Bowl" to attract a crowd, generate excitement and increase awareness of your restaurant/business! Have each restaurant/business sponsor a hole on the golf course (hint: Hole In One International's sponsor signs are perfect for this type of occasion!)
The possibilities are endless. Are you a restauraunt that serves hot wings? Hold your own Annual "WingDing!" Show off your tasty hot dogs at "Duffers and Dogs." Seafood restaurants may want people to try their fish recipes at "Fish on the Fairway."
Get the picture? We sure do… and it looks delicious!