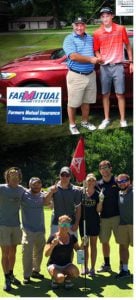 Emmetsburg, Iowa – Talk about exciting! This August, Hughes, Brennan & Wirtz Insurance Inc. had not one, but two winning hole in one coverage claims in the same week.
First, on July 30, Clayton Freeman, who was playing in the Emmetsburg Mens Open, aced the 170 yard, 8th hole at the Five Island Golf Course with a 9-iron, winning a $20,000 2016 Ford Fusion, sponsored by Emmetsburg Ford and Farmers Mutual Insurance Association. It was 19-year-old Freeman's first hole in one.
Then, on August 5, at the Emerald Hills Golf Club during the Hawkeye Wrestling Club Golf Tournament, Jodi Ann Reindl aced 143-yard 12th hole with an 8-iron, winning a $11,200 Sea Doo, courtesy of Mau Marine in Okoboji. It was also Reindl's first ace.
And of course, Hole In One International was delighted to write two checks – one for each of the hole in one prize sponsors.
Interested in offering participants in your next golf tournament the chance to win a prize – and let Hole In One International write the check? Email or give us a call today at 800-827-2249 to learn more.