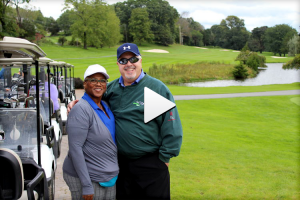 Franklin, N.J. – Putting contest winner Don Palumbo Jr. of Hardyston recently won $10,000 courtesy of iHeart Media and paid for by Hole In One International.
Watch Palumbo sink the impressive 55-foot putt.
Palumbo scored the giant cash prize in September after he aced a 55-foot putt on the putting green of the Farmstead Golf and Country Club in Lafayette.
The putting contest, which was part of the 2018 WNNJ Mulligan Classic, an annual client golf outing hosted by Sussex iHeart Media, featured a series of qualifying putts where one finalist was able to attempt the $10,000 putt, insured by Hole In One International.
Looking to add some sizzle to your next company, corporate or fundraising golf outing? Give Hole In One International a call today at 800-827-2249 or swing by www.HoleInOneInternational.com for an instant quote. Who knows, maybe you could end up with a putting contest winner of your own!