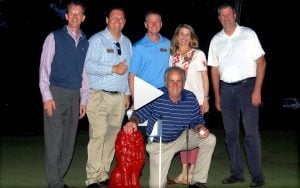 Tallahassee, Fla. – Congratulations to putting contest winner Joe Audie who recently won $10,000, during the Leon High School Foundation's Spring Fling.
Audie won the cash prize after sinking a 50-footer during a putting contest, which took place on the practice green of the Capital City Country Club.
The putting contest is part of the Leon High School Foundation's annual Spring Fling fundraiser which also features a dinner and silent auction. The Foundation provides financial support as well as materials and services to Leon High School for academic and educational aid as well as scholarships for graduating students.
Check out Audie's winning putt and the crowd's reaction to his big win.
Want to insure an event of your own and have your own putting contest winner? Then give us a call at 800-827-2249 or visit our website for a free, no-obligation quote!