Second Hole in One In 30 Days!
Butte, Mont. — Meet Jake McKinney of Laurel. Last August during the Rod Godbout Coca-Cola Classic, McKinney won $10,000, courtesy of Payne West Insurance, and paid for by Hole In One International. McKinney's was the first hole-in-one in the 30-year history of the Coca-Cola Classic.
McKinney won the g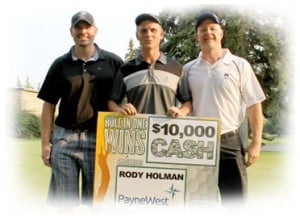 iant-cash prize after acing the 200-yard, 6th Hole at the Butte Country Club with a 6 iron. Ready for the kicker? This was 22-year-old McKinney's second hole in one in thirty days. His first was hit in Laurel on July 6 followed by this second one on August 3.
"This is a really special event. Folks come from all over to participate in this tournament," explained Rody Holman, Sales Executive with Payne West Insurance. "We've been sponsoring this hole in one contest for many years in hopes someone would win. It was truly exciting to have a big winner," continued Holman.
Are you ready to give a lucky player the chance to win an amazing prize this season? Today is a great day to get started! Visit our website at Hole In One Internationalor call us today at 800-827-2249 for a free, no-obligation quote.