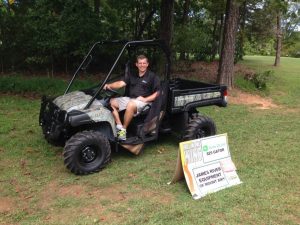 Jonesville, N.C. – Congratulations to Matthew Cave of Dobson who recently won a John Deere 825 Gator, valued at just over $11,000. While it's not unusual to see a gator at a course, it's a whole different thing to win one! Cave won this sweet utility vehicle prize, which was sponsored by James River Equipment of Mount Airy, and paid for by Hole In One International, during the Garry Scearce Memorial Special Olympics Golf Tournament.
Cave, who was playing on a team from Omega Builders, won the Gator after he aced the 165-yard 13 hole at the Cedarbrook Country Club with a 7 iron. Along with having a big hole in one winner, the tournament was a big success as well. The event raised more than $20,000 for the Special Olympics of Surry County, with all of the funds going towards uniforms, transportation and renting practice facilities for the athletes.
Looking to raise more money while giving your tournament participants the chance to win some incredible cash and prizes this year? Then it's time to give Hole In One International a call at 800-827-2249!