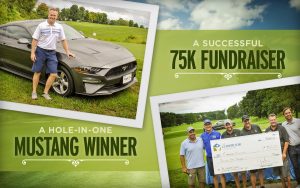 Brian Farasy defied 67,000,000 to 1 odds this Fall when he aced not one, but two holes during an October fundraising golf tournament, winning a set of Callaway Irons and a 2018 Ford Mustang, courtesy of Apple Ford Lincoln, with the assistance of Supinski Insurance, and paid for by Hole In One International.
Early on day one of the tournament, Farasy won a brand new Mustang after he aced the 185-yard Hole 7 with a 3 hybrid. He followed up that incredible shot by acing the 160-yard 15th hole with a 6 iron, winning one of three free ancillary prizes, a set of Callaway Irons. This shot also qualified him for the tournament's million dollar shoot-out.
Along with having an odds-defying acemaker, the 8th Annual Corridor Classic raised a record $75,000 for local nonprofit organizations.
Want to raise more for charity at your next company, corporate or fundraising golf outing? Give Hole In One International a call today at 800-827-2249.