Hole In One International's latest beneficiary, Jerry Walker, managed to score 2 tickets to the 2013 U.S. Open!
That's because Walker, who played in the 17th Annual Grizzly Golf Classic at West Plains Country Club in Missouri on June 8th, aced the insured target hole (#2) with his 5 iron. The hole measured a whopping 180 yards, and just so happened to be insured with a U.S. Open prize package by Missouri State University-West Plains.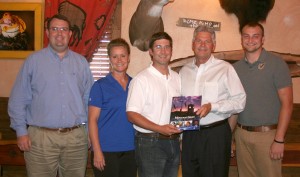 This trip-for-two package includes a 6 day/5 night package and entrance badges Thursday – Sunday, roundtrip airfare, event transfers, plus overnight accommodations.
Feel free to read this article for more information on Jerry Walker's feat, then give us a call at 888-827-2249 or email us if you'd like a free, no-obligation quote on a hole in one insurance package of your own!