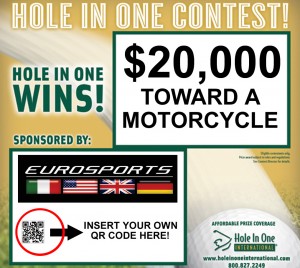 As a golf tournament planner or sponsor you probably already know having golf signage with your business' name/logo advertised is bound to catch some eyes and help boost business. But did you know that Hole In One International can help you make your signage even more effective by embedding a QR code?
For several years, Hole In On International has offered clients the ability to embed customized logos in their signage, but these days you can do more! Since Covid-19, we've all become more familiar with how QR codes work and most of us have QR code readers imbedded in our phone. Now, whenever you opt for Hole In One International's free signage or purchase sponsor signs for your event ($25/each or 18 for $360), you have the option to email us your artwork, complete with a custom QR code, and we'll apply it to your sign… for no additional cost! It's that easy!
Want to see it in action? Simply click the image on this post to see a great example of QR usage on signage! Want to do even more with your QR code? Our sister company Odds On Promotions can help turn your QR code into a contest where tournament participants can get an additional chance to win big.