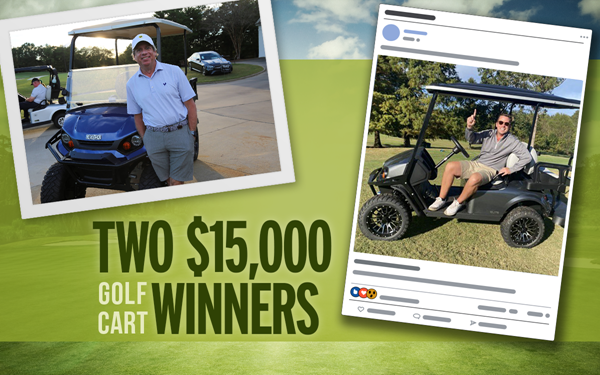 Brookhaven, Miss. — Congratulations to Stuart Knighton and Steve Jent who each won a brand-new golf courts valued at $15,000 each, courtesy of Ben Nelson Golf and Outdoor, and paid for by Hole In One International. Knighton and Jent won their E-Z Go Express S4 Elite Golf Carts during the Trustmark Children's Hospital Pro-Am Golf Tournament.
Stuart Knighton hit his very first ever hole-in-one with a 7-iron on the 150-yard, Hole 4 at the Country Club of Jackson, while over at the Reunion Golf & Country Club, Steve Jent got his second lifetime hole-in-one on the 150-yard, 6th hole with a 6-iron.
The tournament is held simultaneously at three different courses – the Annandale Golf Club, Reunion Golf & Country Club, and The Country Club of Jackson and is one of the largest golf tournaments in Mississippi, and attracts players from all over the region.
"The Trustmark Pro Am has done it again–record-breaking participation, fundraising and comradery!" said Friends of Children's Hospital Chairman John Scarbrough. Along with awarding multiple hole in one prizes, the event raised more than $171k for the Child Life Program at Batson Children's Hospital program, which specializes in helping children and families cope with the stresses associated with illness, hospitalization, and trauma.
Are you looking to "drive" increased participation at your golf event this year? Hole in One International can help. Email or give us a call 800-827-2249 – or better yet, log on and get a free instant quote for your event.