El Paso, Tex. – Hole In One insurance coverage winner Roberto "Bobby" Sanchez of Anthony, New Mexico recently won a Dodge Challenger, valued at $25,000, courtesy of Dick Poe Dodge-Ram and paid for by Hole In One International.
Sanchez won his choice of Dodge vehicles after acing the 201 yard 17 Hole at the Butterfield Trail Golf Course with a 4 iron during the 2nd Annual Camino Real Rotary Club Golf Fundraiser.
The tournament is a fundraiser for he Camino Real Rotary Club of El Paso's "Operación de Corazón en Niños", a program which assists low income children with congenital heart disorders in the international border region of Juarez, Mexico.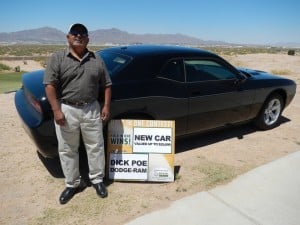 According to Juan Manuel Villalba, President of the Camino Real Rotary Club, the club's project has been able to support well over a dozen surgeries and 60 treatments for children with heart problems.
"We are very excited to participate and sponsor this event which contributes to the improvement of the quality of health of children suffering from congenital heart problems," stated Joe Mailander, general manager of Dick Poe Dodge-Ram. This was Sanchez's second hole in one and his first big hole in one prize.