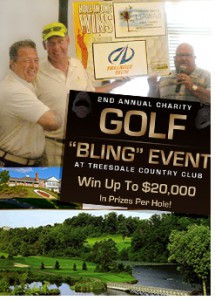 Pittsburgh, Penn. — Congratulations to Rob Priebel of Gibsonia, our latest big hole in one insurance winner, who recently won a seven-night Hawaiian vacation, including airfare, courtesy of Triangle Tech, and paid for by Hole in One International.
Priebel won the prize after he aced the 150-yard 3rd hole, with a 7 iron, at the Treesdale Country Club during the 2nd Annual Casa D'Oro Jewelers' Charity Golf "Bling" Event. It was Priebel's 2nd hole in one.
The tournament, which is hosted and organized by Casa D'Oro Jewelers, is a fundraiser for the Ronald McDonald House of Pittsburgh.
Billed as a "bling" golf event, Casa D'Oro's event lived up to its name featuring high-end prizes on every hole. Along with the trip to Hawaii, participants could have won trips to Jamaica and Las Vegas as well as a $10,000 jewelry spree, a $5,000 television, a $5,000 lighting package, plus diamond rings and elegant timepieces ranging in value from $13,900 to over $20,000.
Want to add a touch of bling to your tournament this year? You can offer a trip to Hawaii at your golf event for as little as $150. Or maybe consider sending a lucky player to every Major, including the British Open. For more information swing by our website or give Hole In One International a call today at 800-827-2249!