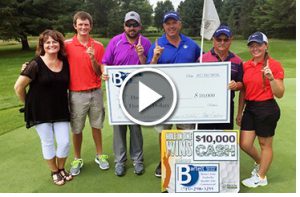 Weston, Wisc. – Congratulations to hole in one insurance winner Davis Tomczik of Weston who recently won $10,000, courtesy of Bartelt Insurance Services, and paid for by Hole In One International.
Tomczik won the big cash prize this summer after he aced the 159 yard, hole 9 at the Pine Valley Golf Course, with an 8 iron, during the Wausau WarJack Golf Outing, a fundraiser for youth hockey in Marathon County. This was Tomczik's second hole in one.
Check out Tomczik's reaction as he retrieves his ball from the hole, which was sponsored by Bartelt Insurance Services.
Interested in offering participants in your next golf tournament the chance to become a hole in one winner – and let Hole In One International write the check? Email or give us a call today at 800-827-2249 to learn more.