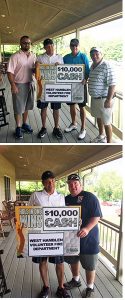 Hot Shot: Golfer Aces 10K at Volunteer Fire Dept. Tournament
Morristown, Tenn. – Congratulations to Bill Stone of Kingsport who recently won a $10,000 prize in a hole in one contest, courtesy of the West Hamblen Volunteer Fire Department (WHVFD) and paid for by Hole In One International.
Stone, who is an insurance underwriter for the WHVFD's vehicles won the big bucks in a hole in one contest after he aced the 135-yard, Hole 3 at the Millstone Golf Club with a 7-iron during the WHVFD's Annual Golf Tournament.
The cash prize, which was sponsored by the WHVFD, was designed to be split 80/20 with $2,000 going back to the WHVFD. But Stone didn't stop there, he opted to share his prize with his foursome, giving each player a $2,000 cut.
"I thought because I was playing with them as a team, I might as well split it as a team," said Stone, who was playing in his fourth tournament. This was Stone's 2nd hole in one.
Are you ready to give a lucky player the chance to be a hot shot donor during your golf tournament? Today is a great day to get started on planning a rewarding hole in one contest, shoot-out or putting contest! For more information or a free, no-obligation quote, give us a call today at 800-827-2249.