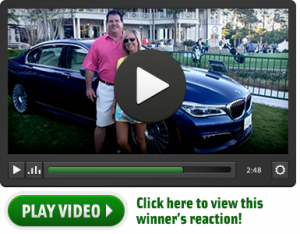 Hilton Head Island, S.C. – Hole In One International has had yet another golf winner! Congratulations to Chris Mabry of Lynchburg, Va., who recently won a BMW, valued at $50,000, and paid for by Hole In One International, when he aced the 140-yard 7th hole at the Harbortown Golf Links during the RBC Heritage Pro-Am sponsored by Boeing.
Mabry, who, ironically, happens to own a couple car dealerships, was playing in his fifth Heritage Pro-Am with professional Brooks Blackburn. A 16-handicapper, Mabry aced the shot with a pitching wedge, winning a BMW of his choice. Mabry is no stranger to hole in one coverage; he uses hole in one insurance at his dealership to cover the cost of a prize if there is a winner during the golf events he sponsors.
Want to give everyone who plays in your next golf tournament the chance to take home an amazing prize? Hole In One International can help! Visit our website or give us a call today at 800-827-2249.