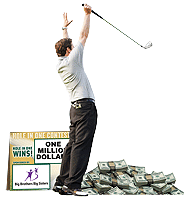 Looking for a great fundraising idea that will draw a crowd? How about insuring a few golf promotions? That's what this nonprofit medical center in the state of Kansas did, by insuring a few unqiue golf contests, with the assistance of not only Hole In One International, but our sister company, Odds On Promotions.
Here are how the golf promotions worked: Come the day of the golf tournament, 75 of the players, invited via exclusive invitation, participated in a golf shootout contest, where if any of them made a hole in one from the specified 155-yard par 3 hole, they would win $50,000… compliments of Hole In One International.
While unfortunately, no one ended up making the prize shot, there was still good news to be had. That's because 20 of the those players were invited to come back and participate in a second golf shootout contest — this time, from the par 3 18th hole on the course, which measured 165 yards. The players were qualified in various ways. The 16 golfers who were closest to the pin from the prior shootout contest were invited back, 2 players qualified via auction, 1 via putting contest, and 1 via a chipping contest.
If one of the twenty golfers managed to ace the 18th hole, they would have landed $1,000,000 for themselves and $1,000,000 for the medical center, which mainly focuses on cancer research and treatment. That's a cumulative $2,000,000 prize… paid for by Odds On Promotions!
While no golfers managed to make a hole-in-one, money was still raised for the medical center and fun was had by all. Make your next golf tournament or golf outing a huge success by advertising the chance to win big, compliments of Hole In One and Odds On Promotions! Want every single player in your tournament to be given a chance to ace a hole and win the big bucks? Then check out our hole in one insurance! Give us a call today at 800-827-2249 for a free, no-obligation quote on any golf promotions of your choice… or email us for more information or with any questions you may have! We'd love to help make your next big fundraising event a success.