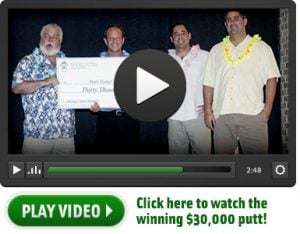 Combination Putting Contest Leads to 30K Prize
Hole In One International Picks up the Tab
Peoria, Ariz. – Congratulations to Mark Hamer, who won $30,000 in May, courtesy of the Peoria Chamber of Commerce, and paid for by Hole In One International.
Hamer won the big cash reward after he successfully holed a 10, 30 and 50-foot combination putt during the Peoria Chamber's $10 Million Dollar Shootout Golf Classic which took place at the Trilogy Golf Club at Vistancia.
While this was the first year the Chamber offered the giant-prize putting contest, tournament organizers are no strangers to insured prizes. This tournament, which is the primary fundraiser supporting Peoria Chamber's business and community programs, also features a golf shoot-out where ten randomly selected golfers get a chance to shoot for $1 million dollars from a special tee set on the 18th fairway.
Want to give everyone who plays in your next golf event the chance to putt for an amazing prize? Hole In One International can help! For more information on creating a putting promotion that will help you sell more sponsorships, showcase your brand, or raise more money for your cause, visit our website or give us a call today at 800-827-2249.
Whether you're looking for hole in one insurance, a million dollar shootout, a single-putt putting contest, or a combination putting contest such as this one, Hole In One International has a golf contest for you!