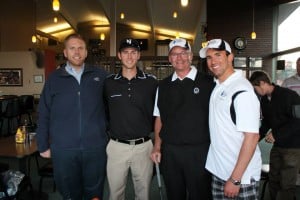 Twenty-year-old Jason McGraw of Reno is driving around campus in a $50,000 Ford truck, courtesy of Jones West Ford and paid for by Hole In One International.
McGraw won the amazing set of wheels after he aced the 173-yard, Hole 11 at the Washoe County Golf Course with a 6 iron, during the 4th Annual Josh Morros Because I Can Golf Tournament which benefits the Head Injury Association of Northern Nevada and supports Josh Morros in his efforts to speak at schools and community event on determination, resilience, understanding, and the care and prevention of traumatic brain injury. This was McGraw's first hole in one.
According to Tournament Director Teresa Morros, this year the event raised $6000 and they will be using the publicity they received from having a big winner to attract additional sponsors as well as participants for their next event.
"It's funny. No one believed that there was a winner. Everyone was in shock. When I told Josh he didn't believe me. Even Jason's mom thought he was kidding when he called to tell her. Working with Hole In One International was amazing. They made the entire process very easy," noted Morros.
Again, congrats to Jason McGraw on his amazing accomplishment! For more information on hole in one insurance or putting contest insurance, give Hole In One International a call today at 800-827-2249 or email us for a free, no-obligation quote! Happy golfing!