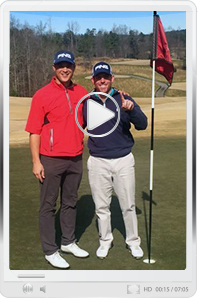 Oakwood, Ga. – Congratulations to charity hole in one insurance winner Crawford Reeves who recently won $5,000 for himself and $5,000 for Fellowship of Christian Athletes (FCA), courtesy of Southern First and paid for by Hole In One International.
Reeves, a pro-golfer who currently plays on the Web.com Tour, won the $10,000 50/50 prize after he aced the 166-yard 15th hole at Crosswinds Golf Club during the 2016 RedBullet "Shoot-Out with the Pros", which is a fundraiser for the FCA. While it was his sixth hole in one, Reeves was still left a little stunned. But hey, why take our word for it… Check out this incredible 'afterglow' video courtesy of Tournament Director Jose Alvarez!
Want to leave a player speechless during your next golf tournament? Give Hole In One International a call today at 800-827-2249 to learn more about adding an affordable hole in one prize to your event.