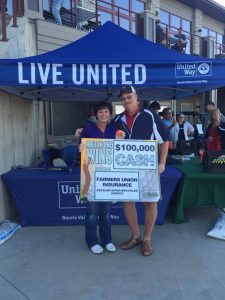 Minot, N.D. – While it wasn't her first hole in one, the ace Rita Bates made during the Souris Valley United Way golf shoot-out contest at the Minot Country Club is probably her favorite. After all, it's not every day you win $100,000, courtesy of Farmers Union Insurance – ResslerSipma-Beuchler Agency, and paid for by Odds On Promotions' sister company, Hole In One International.
According to Josh Ressler, sponsor of the giant-prize golf shoot-out contest, "In the past I've made donations to the United Way. I knew I wanted to do something — but I wanted to make it bigger. I've used hole in one insurance for other events and after talking with the United Way, a shoot-out seemed to be the best use of the money. They provided the volunteers, and I provided the shoot-out coverage."
The shoot-out was a kickoff event for the Souris Valley United Way's 2016 Campaign. It began with three days of qualifying rounds where anyone could go to the Country Club and purchase five balls for $10, and qualify to take a shot at winning $100,000, or win a variety of consolation prizes including Callaway Irons, a $250 gift card, and more. Everyone who landed a ball in the targeted area was then invited back to a second-round qualifier, where the field was narrowed to 25. Bates, who was one of 25 lucky finalists, was the only one to hit the green, acing the 140-yard target hole, and winning the $100,000 prize.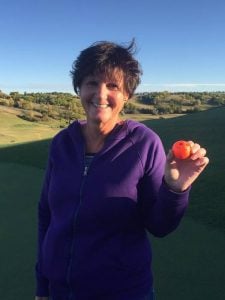 Even better, Ressler was able to take what would have been a $500 donation and turned it into a $3,500 fundraiser for the United Way.
The Souris Valley United Way 2016 Campaign raised and awarded over $400,000 to local organizations including Backpack Buddies, Dolly Parton Imagination Library and domestic violence groups.
Want the chance to be our next golf shoot-out contest winner? Want to up the ante and give away the chance to win a million dollars in the event of a hole in one? Give us a call at 800-827-2249.