Olathe, Kansas –Karl Kramer, the General Manager of seven dealership strong McCarthy Auto Group, may have been Hole In One International's luckiest customer this summer. He not only handed over the keys to a brand new Chevy Equinox in June, but he turned around and handed over the keys to a brand new Nissan Rogue in September.
Kramer's winning season of sponsorship started at the 300 person Trent Green Golf Classic where Todd Gafney of Overland Park, aced the 201-yard 11 Hole with a 3 iron at the Shoal Creek Golf Course winning a brand new Chevy Equinox. Then, in September during the 17th Annual Convenience Store Open, which benefits The Dream Factory, Jeffery Brandt of Blue Springs, Mo.,nailed the 167-yard 14 Hole with his 5-iron at the Prairie Highland Golf Course in Olathe, winning a brand new Nissan Rogue.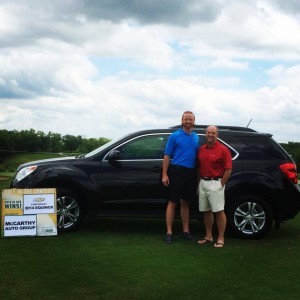 According to Kramer, the McCarthy Group sponsors between 10 and 15 events per year. "Hole in one sponsorship just makes sense. As dealers, we want to give back to our communities and hole in one insurance is cost-effective. You choose a vehicle based on the MSRP, then you look at the yardage, the hole, the number of players and really for $300-$400, you get amazing community visibility. It's affordable and the organizations are so appreciative. It makes a big impression."
"I've worked with Evelyn Golding on a number of promotions. She's my go-to gal. The claims process is easy. I never have to worry – not about signs, not about when there's a winner. I've been using Hole In One International for two years now. Working with Hole In One International has been very very good."
Ready to make a big impression in your community? Email or give us a call today to plan your next hole-in-one sponsorship.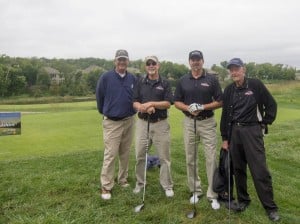 The 17th Annual Convenience Store Open, which is sponsored by the Independent C-Store Operators of MO-KAN, benefits The Dream Factory, an organization that help make dreams come true for children with life-altering illnesses. The Ronald McDonald House Charities of Kansas City's Trent Green Golf Classic raised more than $210,000 to benefit critically ill children and their families.