Marshfield, Wis. – Congratulations to Lucas Hart who won $10,000, paid for by Hole In One International, in a combination putting contest sponsored by Lang Furniture and Don Blanchard.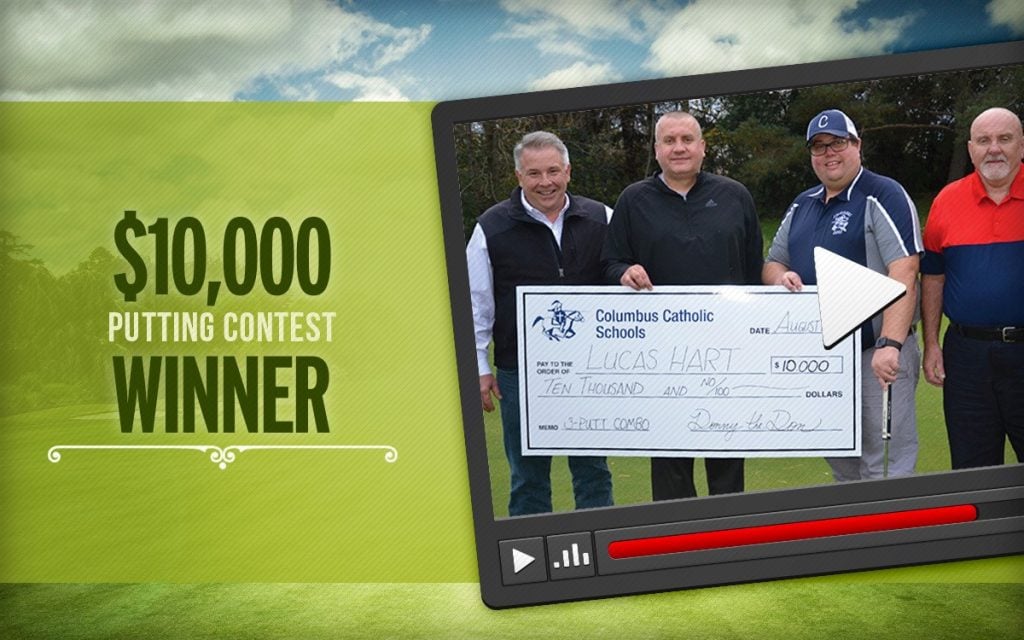 Watch Hart's impressive final 50-foot putt!
Hart won the big cash prize after he successfully holed a 10-foot, a 30-foot and an impressive 50-foot putt on the practice putting green at the Marshfield Country Club, during the 5th Annual Columbus Classic Golf Tournament's combination putting contest.
The Columbus Classic, a fundraiser for the Columbus Catholic Schools, is hosted by the Booster Club. The tournament gives all registered participants the chance to putt for a $10,000 prize. Everyone who successfully makes the 10-foot putt moves on to the 30-foot putt. After successfully holing the 30-footer, Hart and four other players moved on to the 50-foot putt. Hart, who shot 3rd, won the prize, as he was the first to successfully hole the 3rd and final putt.
Interested in making your tournament even more rewarding? Looking for an additional sponsorship sales opportunity? Want to give everyone a shot at scoring a big prize before, during or after your event? Hole In One International makes it easy to add a single or combination putt to your tournament.
For more information, give us a call today at 800-827-2249, or swing by our website and get an instant combination putting contest quote.