Enterprise, Ala. – Meet another one of Hole In One International's big winners: Michael Sines of Enterprise.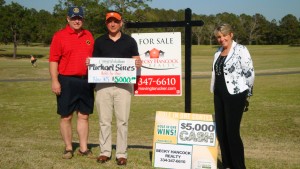 Sines won $5,000, courtesy of Becky Hancock Realty, and paid for by Hole In One International after he aced the 165-yard, Blue Course, Hole 3 at the Silver Wings Golf Course at Fort Rucker during the Army Aviation Association of America (AAAA) Golf Tournament. It was Sines' first hole in one.
While this year's tournament took place on April Fool's Day, this fundraiser is no joking matter. This year 216 players participated in the tournament, whose sole purpose is to award scholarships for AAAA members and their families.
According to Tournament Director Denise Aylesworth, $35,000 in sponsorships were collected for the AAAA scholarship
fund this year.
Ready to make your own big winner? Email or give us a call today at 888-827-2249.