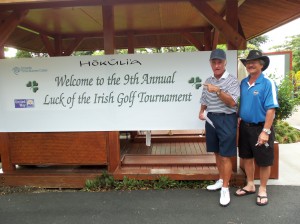 Kailua Kona, Hawaii – This March a lucky golfer found his very own pot of gold at the Hokuli'a Golf Club during the 9th Annual Luck of the Irish Golf Tournament.
On his second hole of the day, Ken Schork, president of El Monte RV, hit a hole-in-one on the 193 yard Hole 13 winning himself a brand new Chevrolet Cruze, courtesy of De Luze Chevrolet and paid for by Hole In One International. According to Schork, whose mother was originally from Ireland, "I guess the luck of the Irish really was with me."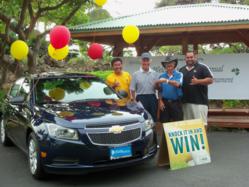 While Schork was delighted to win a new set of wheels, his wasn't the only big prize insured by Hole In One International at this Hawaii Island United Way fundraiser this year. Tournament participants also had a shot at winning $10,000 – $5,000 for the United Way and $5,000 for the ace maker in a "50/50" hole in one contest if they could ace the Par 3 11Hole.
According to Dana Downing, Organizational Support with HIUW, the tournament raised an estimated $50,000 that will be used to support various organizations on the island such as the American Red Cross Disaster Relief.  "We have been working with Hole In One International for several years now insuring this "50/50″ hole in one contest at this tournament as well as one during the Mayor's Cup tournament in July. Hole In One International's customer service is excellent."
Interested in adding a 50/50 hole in one contest to your tournament? Swing by our website or give us a call at 800-827-2249.