Congratulations to Brandon White of Tontitown, Arkansas!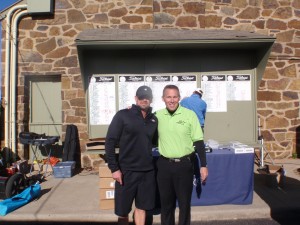 Brandon's story is quite an exciting one, as he won not just one free auxiliary prize, but two – during the same tournament!
The Sheriff Helder's Cops and Friends Classic was held on May 16, 2011, at Fayetteville Country Club.  White aced the 138-yard hole 17, using a 9 iron. But here's the best part?
Since the hole was insured by two separate companies that day, Hole In One International awarded the lucky acemaker two prizes: a 32″ Panasonic LCD TV and a set of Nike Victory Red Pro Cavity Irons.
Wow!  Sweet deal!
In case you didn't know, auxiliary prizes are extra prizes Hole In One International provides for all tournament formats. They are placed on par 3 holes that are longer than 135 yards. With auxiliary prizes, your players will win prizes,  even if they don't manage to make a hole in one on the grand prize hole that you've  insured.
Give us a call at 800-827-2249 or send us a quick email and we'll set you up with a hole in one policy of your own!
Who knows… maybe the next Brandon White will be winning big at your tournament next year.