The Clean Hands Kiosk is a digital signage display with a built-in automatic hand sanitizer dispenser. It's great for conveying the message that you care about your customer's and employee's health, while at the same time continually advertising your products and services. The Clean Hands Kiosk is a classy, permanent solution for any and all environments! Watch a video on how the kiosk works.
---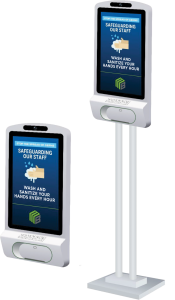 22″ DIGITAL SIGNAGE HAND SANITIZER KIOSK
Freestanding and Wall Mounted Options
Attracts Attention Immediately; Delivers We Care + Marketing Messages
Uses Open Market Bulk Sanitizer
Holds up to 5 times more than standard dispensers
Avg 1¢ per use.


PAYS FOR ITSELF IN 10 REFILLS COMPARED TO PURELL-STYLE DISPENSER
---
ACT QUICKLY! HAND SANITIZER DISPENSER UNITS ARE SELLING FAST.
Orders taken on a first-come, first-serve basis.
---
KEY FEATURE Automatic Refill Notification
---