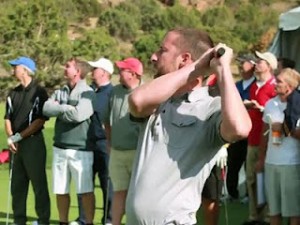 Heber City, Utah – Chances are you've already seen, heard, or read about Hole In One International's newest millionaire, Jason Hargett of Springville, Utah.

Not only was Hargett's million-dollar shot covered by every TV station in Salt Lake City, but his amazing hole in one was featured on The Golf Channel, The Early Show, The Ellen Show, Sky News Australia, USA Today, the Boston Herald, the Atlanta Journal-Constitution, The Sun UK and of course, ESPN where he landed at #1 on the Top Ten plays of the Day! And that's not all. Talk about your viral videos, in just a few short weeks, his prize-winning shot has been seen by over a million viewers on YouTube – and counting.
Now, in case you've missed the buzz surrounding this headline-making hole in one, Hargett won the million-dollar prize in a post-tournament shoot-out sponsored by the Villas at Poipu Kai during the Mark Eaton Celebrity Golf Classic at Red Ledges.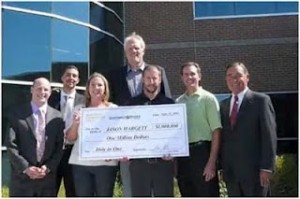 While we can tell you all about how Hargett was a somewhat reluctant last-minute replacement with a sore wrist, or about the fact that he was using a borrowed club – or even how he fell down as he charged the hole after the shot, we know you'd rather see it.