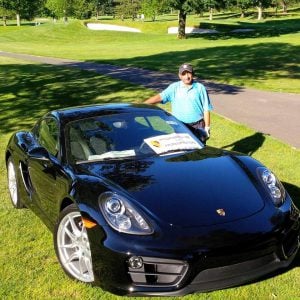 Huntington Station, N.Y. – Congratulations to Sunil Rihal who won a two-year lease on a Porsche Cayman valued at over $20,000 this summer during a hole in one contest, courtesy of IFS Insurance, and paid for by Hole In One International.
In what has to be one of the more interesting stories of the year, Rihal, President of the IFS Insurance Group in Mineola, ended up winning the very prize he sponsored, during the Long Island Real Estate Group's Annual Golf Outing.
Rihal won the opportunity of driving the spectacular prize after he aced the 175-yard Hole 5 on the Overlook Course at Old Westbury Golf and Country Club with a 3 wood.
This was Rihal's second hole in one.
Are you interested in learning more about how you can use hole in one insurance to showcase your business during a charity, corporate or golf course tournament? Email or give us a call today at 800-827-2249.